Let's take a trip in the way back machine back to your high school P.E class. You probably don't want to relive these memories (I know I don't) but bear with me for a moment.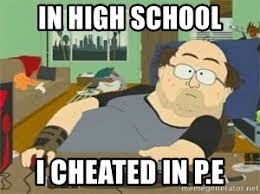 If your class was anything like mine, every time a class mate stepped out of line or someone made fun of the P.E teacher's short shorts, you'd run laps or pump out good old-fashioned push-ups as punishment
And if the coach was extra sadistic, you'd do both. Weren't they the good old days?
However, now that you're (a little) older, you should now view push-ups as a reward for your upper body because the get down and give me 20 days are now safely in the past. Hopefully.
Because push-ups are good for you and are not a punishment. Seriously.
Push-ups safely increase your upper body strength while carving your core simultaneously by working on your arms, abs and your lower body. Push-ups help make you a fitter you.
Besides, if push-ups are good enough for Chuck Norris, they're good enough for you too.
If it's been a while since you've last done a push-up and or you want to improve your form and strength, then you've come to the right place. Strap yourself in for a fun push -up ride.
Push up plank (work up to at least a minute)
Seeing the push up is a moving Front Plank, it pays to be strong from this position at the start or you'll fold like a deck of cards. And planks are tons of fun, right?
To do this correctly, squeeze your knees and butt together (birth control) push your hands through the floor and keep your head and neck level with the floor. When you can hold this for 1-minute, good things will start to happen.
2. Leopard crawl
Nothing ties your body together better (in an exercise way) than crawling. It involves most the muscles from your upper and lower body. And it a great exercise to add movement to your plank position before you do push-ups.
To apply force to gravity you first must learn how to accept force too. Crawling is a fantastic way to do this. I don't think there is a set amount you should crawl, but I suggest you get competent at crawling before moving to push-ups.
3. Elevated push up (start as high as you need to and work down)
Taking gravity out to the equation allows you to build strength and ensures good push up form. It's about getting your reps in a way that is easy for you. However, I'm not a fan knee push-ups.
Doing push-ups on your knees is better than nothing but it doesn't require much core strength and that's the point of push ups in the first place.
Start as high as you need to go and work up to 10-15 reps in each incline position until you get as close to the floor as you can and then move on to the next progression.  
4. Incline plyometric push up (explode up so your hands leave the bench)
These are fun, but I have a warped sense of fun.
Gym goers often neglect power (the ability to do things quickly) but the truth is you lose power twice as fast and you lose strength. However, when you do a power push-up (like in the video) you gain both power and strength.
You'll be focused on doing the push part quickly (and not the lowering part) which will increase your ability to knock out quality push-ups.
And don't worry if your hands can't leave the bench the first few times you do it. Concentrate on getting your elbows level with your torso and doing it as fast as you can.  Once you can knock out a few reps with your hands leaving the bench, move on to the next progression.
5. Lowering only push up (3-5 second descent and try to get to 40 total seconds under tension)
In the lowering phase (of most exercises), you're stronger because when your muscles are lengthening and you're producing more force because you don't have the friction of your muscles coming together.
What does that mean for you? It means you can build strength safely and get stronger, so you can do push-ups. However, this doesn't tickle and may cause some muscular soreness.
But when you nail this, proper push ups are in your future.
Push up from the floor
Okay, now you've reached the top of the summit, so to speak. Even if your push up game is good, please make sure you're not making the mistakes in the video because you don't want to teach your body bad habits.
Focus on quality reps not quantity. The quantity will come with time.
But wait there's more……..
The triceps play a part in push up process and a huge role in the gun show. According to the chart below around 20% is all triceps. Making time for training the triceps after you've worked on your push-ups is imperative in my book. It should speed this thing along.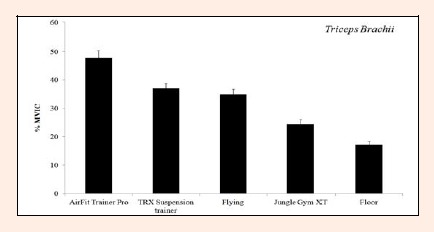 If you're serious about this push-up thing (you've read this far I hope so) here is how you should go about training push ups and triceps as part of your overall program.
1A. Push -up variation above 6-12 reps
1B. Leg exercise
2A. Triceps variation 8-15 reps
2B. Biceps variation (because gun show)
Finishing up
Now you're a push-up master and your high school P.E teacher would be so proud of you. Now go find him and tell him (or her) to drop down and give YOU 20.
And then put them to shame with your prowess.