ATTENTION: BUSY WOMEN WHO ARE STARTING THEIR FITNESS JOURNEY…. AGAIN
–——————————————————————————————————————-
Once beginning exerciser and now experienced Certified Personal Trainer Shane McLean has the perfect program for you to get started with exercise……… again. This time making it count!
Get Back In The Saddle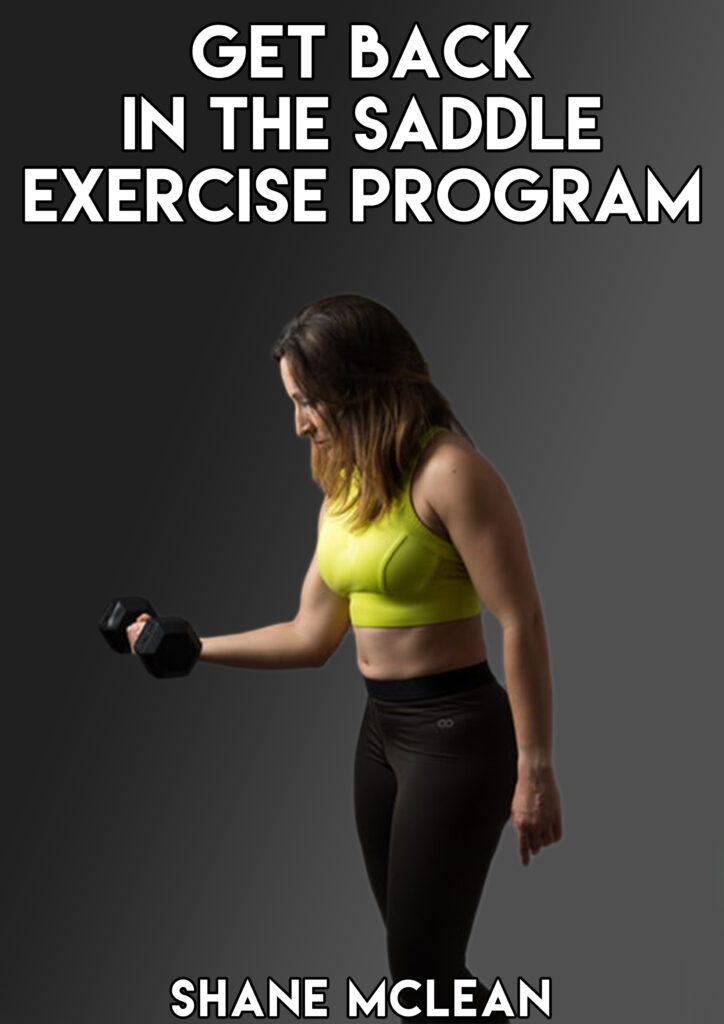 If you're a woman between 35-55, confused and intimated about diet, exercise and overwhelmed with information, this program is for you.
Perhaps in the past you have tried this "lifting weights" thing, but for some reason it didn't stick. The program was either too time consuming, too complicated, or just a bit much…and then COVID-19 threw a spanner in the works.
Now you're back to square one, looking for long lasting results without confusion.
You want results that stick.
You're going to get back in the saddle.
——————————————————————————————————————–
WOMEN HAVE BEEN LIED TO FOR FAR TOO LONG
The answer to "Honey, did you take the trash out?" withstanding, (yes dear, I really did take it out (this time!)), you've been lied to about what it takes for YOU to get into shape, look, and feel amazing.
You need to exercise differently from men. It's true!
You're told not to build muscle.
Really? Why not?
You're told to do high reps to get the toned look.
Is that really how you get there?
Advised to stay away from heavy weights. They get you too bulky.
Hmmm, not so sure about this one.
Strong women are not sexy.
Says who?
In my experience it is people who either don't know you, don't want you to change or want you to keep society's norms as they see it. Or if this isn't the case, they're trying to see you as something that fits the above mold.
And all this crap (it IS all crap) is holding you back from being your best self.
Because apart from a few minor things, men and women need the same things from exercise:
Move more
Get stronger
Deal better with stress
Look and feel better than you did in your 20's (Oh those college years where you were confused for Molly Ringwald.)
What you need is a program that tells you how it is, gives you simple easy to follow instructions and sets you on the lifelong path of health.
If this sounds good to you, then the Get Back In The Saddle program is for you.
——————————————————————————————————————–
Get Back In The Saddle Will….
Help you lose 5-8 pounds without having to go to a gym and exercising with minimal equipment at home
You will look better, feel more confident and move better……. all with a time investment of less than 2 hrs. per week (aka while watching 2-4 episodes of your favorite Netflix series)
Read On If You're Interested In Me Helping You
Understand why I'm giving you almost everything you need to get started again on your gym journey for one low price.
Help you get back into the exercise habit without being overwhelmed with information.
Move better during your day- no more achy back or neck!-and start building healthier habits that stick.
Get on the fast track to success
——————————————————————————————————————–
But First Who The Heck Is This Shane McLean Character He Sounds Mysterious
Would you like a Green Smoothie? Shaken, Not Stirred?
McLean, Shane McLean.
I'm a married father of two teenage boys (lots of fun, but you know what I'm talking about), coach, writer, and business owner who's spent the last 12 years taking clients from zero to hero.
Over the last decade I've been training and educating clients who are stressed, starting to feel achy, and have little knowledge of lifting weights. But they don't want to just slog to the gym to "get it done", they want to develop their passion for exercise.
But don't all trainers do this? Help develop the passion for exercise?
No. They don't.
And definitely not like how we're going to do it!
Training should be fun, uncomplicated, and improve your life without a huge investment of time.
You want a better life while looking great.
Get Back In The Saddle gives you the tools and support needed to get back in 'shape' again, providing a solid foundation for your health and wellbeing, all while actually enjoying the process.
And lose a few unwanted pounds.
Sound crazy?
It's not. Read on!
——————————————————————————————————————–
Your pain and I ran into each other in a dark alley… It moved out of town after our "encounter"
Your life is hectic and overwhelming. I get it.
Health and fitness gets pushed down the to-do-list and before you know it you look down at the scale in disbelief.
You decide to drop the pounds- but where do you start?
You do some Googling and talk to your friends to find out the fastest and easiest ways to drop fat.
You're overwhelmed with choices and don't know where to start.
Liquid diets?
Intermittent Fasting?
The Green Smoothie Diet?
Raw Diet?
Blood Type Diet?
The Uncle Bill's Flexible Diet?
The Sushi Too, but only on Tuesdays and only if you've hopped 67 times on your right foot first diet?
It's so overwhelming!
You don't start at all and hope things will magically fix themselves. Like that ever happens.
Or, if you're like my previous client Ellen, whom you'll hear from down below, you take a machine gun approach and try everything.
After a while you end up right where you started but worse…you're exhausted, probably starving, have spent your irreplaceable time and effort on something that didn't work, and maybe even tipped that scale in the wrong direction a bit.
To get your best results you need to nail the simple, easy wins that stack the deck in your favor.
You need to cut out the noise, and focus on the essentials.
It's time to hit the "Easy Button" and rack up the small victories with exercises that train your whole body, and get you real results. Fast.
Want to strap on the jet engines and REALLY take off? Throw in better life habits and diet, you'll start to like what you see in the mirror.
——————————————————————————————————————–
YOU MAY HAVE BEEN TOLD EXERCISE HAS TO BE HARD TO BE EFFECTIVE. BUT WHEN YOU'RE STARTING OUT THIS IS NOT THE CASE
That's the trap I fell into myself..
There is a perception that exercise and fitness ALWAYS needs to be hard.
I hear all the time 'This is too easy' or 'I'm never sore' or 'I can lift more than this. Put more weight on it.'
A lot of those working to get back their fitness, or who are looking to finally find the winning recipe will try to "get it all back" at once and test their limits every time they hit the gym or work out.
They might get results but it's on a shaky foundation because in their rush, they may overlook good exercise form.
And you all know what happens to a house on a shaky foundation.
This is where Get Back In The Saddle steps in to fill the void.
I worked with Shane for over 6 years. Shane is fun, even when he's making me do things I don't love and he's not just knowledgeable, he makes sure he's up to date on new training information and techniques.
Ellen Dooley
Note- Ellen has had multiple knee surgeries and still leads an active life which includes hiking and scuba diving.
Shane McLean has deep knowledge of physical fitness. That's why he is able to create highly effective workouts. His no-nonsense approach is refreshing in a world where there seems to be a fitness "flavor of the week". Shane doesn't rely on gimmicks or the latest fad. He simply creates methodical workouts, based in good physical science, that utilize a wide variety of exercise equipment.
Lucinda Nobles
I really enjoy feeling strong when I walk into the bathroom or pantry and forget why I am there! It doesn't matter, I felt really good getting there and my core is firm and my back feels good. I have trained with Shane for many years, ever since an injury drove me to ask for help. But he designed a program that I could follow and what amazed me was that when I trained I felt better! It helps that he is knowledgeable about movement and various types of exercise, does not push toward extremes, believes that slow and steady wins the race and has a funny sense of humor. I like working with Shane, he helps me feel better!
Sarah Aberg
——————————————————————————————————————–
How Exactly Does Back In The Saddle Help You Lose Weight And Kickstart Your Health?
Well… I could give you some fancy answer on why Get Back In The Saddle works but you'll probably tune out.
The biggest reason is the KISS principle. Or Keeping It Simple. Let's not worry about what the other S stands for.
You see a lot of people like to make things more complicated than they are.
Call things fancy names with fancy toys and bright shiny videos to sell you something at a premium price.
They must know what they're talking about and it works because they say so.
There is nothing wrong with that, but I'll take a different path because life is already complicated enough.
And your exercise doesn't need to be difficult, particularly when you're starting out or when you are returning to it.
This is why you start with fundamental human movements.
1. Fundamental Human Movements. What are they and how do they help?
Fundamental human movements were installed in your brain before you were born.
These are
Squats- getting up and down from the throne
Pushing- your sibling of the way to get to the fridge
Pulling- your own hair out 🙂
Locomotion (walking, running, carrying stuff)- carrying the groceries in from the car
Hip hinging- bumping the door with your butt to close it when your hands are full
And when you're starting out, these need to be your focus because they work the most muscles and burn the most calories.
Getting better at these will get you stronger inside the gym, better with daily tasks and have you smiling when looking down at the scale.
These form the basis of the Get Back In The Saddle Program.
2. Long Trainings Are Not Needed To Get Your Body Back
"I don't have enough time" is often an excuse for NOT exercising. But the truth is long workouts are NOT needed to get in shape. 30-40 minutes workouts work just as well.
When you focus on exercises that work the most muscle and doing them well, quality beats quantity every time.
3. Lastly…it's wrong.
You don't need more time or exercises and you don't need any more info.
You need less.
Fewer exercises, focusing on quality movements that train the whole body, burn some energy, and help you build strength
Nothing more than three 30-40-minute training sessions each week that will whip you back into shape.
——————————————————————————————————————–
3 Get Back In The Saddle Principles
#1 Quality Matters
When you focus on the basics and nailing down your fundamental human movement patterns, you slowly start to reduce your injury niggles, daily tasks become easier and you crush your training and go from strength to strength.
Placing your exercise time and energy into the quality and not quantity, you'll get better results, and more confidence in yourself in and out of the gym.
You'll be giving yourself a strong foundation that will set you up for bigger, greater things.
#2 KISS And Not Complex
There is a time for complex.
Like rocket science or open-heart surgery.
But let's face it life is complex enough which is why I believe in keeping your exercise simple, easy, and repeatable.
You're not having to decode sets, reps, or difficult exercises with Get Back In The Saddle. What you see is what you get.
Clear and concise programming that trains your whole body and helps you get the results you want in the time you want.
#3 One Size Doesn't Fit All
You come from a different starting place with a different body than everyone else.
You are a unique human being and one size does not fit all.
This is why exercise progressions and regressions are built into Get Back In The Saddle Exercise Program.
Any time an exercise feels easy, don't hold yourself back. You can make it harder.
But if you're tired, not up to it all or you're not quite nailing your form, you can make it easier.
Making it easier is not a cop out. Junk reps and bad form leads to junk results and a trip to Painsville.
And you don't want that.
——————————————————————————————————————–
So What Do I Need?
This solution is for women between the ages of 35-55, who want to exercise but don't know where to start, and don't have the time for long and confusing exercise programs with lots of rules.
You need the Get Back In The Saddle Program.
It was literally built for you.
What happens when you take all my experience and all the mistakes I've made and put it into a simple program that will build you a strong foundation and put you on the road to better health?
You get in better shape, with less effort, and more FUN, without the long, painful, or confusing workouts so many health magazines and self-proclaimed gurus tell you.
These workouts are built upon the exact 3 principles I shared with you above.
Let's jump into the good stuff, where you know what you're going to get.
When you dive into your pocket for spare change for Get Back In The Saddle, this is what you're going to get:
Book 1- Get Back In The Saddle Exercise Program
(Value $30)
The Get Back In The Saddle Program has 6 weeks of done for you programs with exercise regressions, progressions, videos, workout sheets and exercise descriptions.
Book 2- Protein Smoothie Guide
(Value $15)
The Protein Smoothie Guide is full of yummy recipes to make sure you adequately recover from your training and get your required protein, fruit, and vegetables for the day.
Book 3- Foam Rolling Guide
(Value $15)
The Foam Rolling Guide will direct you through the best foam rolling moves to help you warm up, cool down and improve your recovery between workouts.
Book 4- Easy Mobility Guide
(Value $20)
The Easy Mobility Guide will help you fix any mobility restrictions you may have with easy to follow routines that you can do between training.
——————————————————————————————————————–
In Summary, Get Back In The Saddle Is Going To
Give you six weeks of trainings that's easy to follow
Eliminate the stress of not knowing what to do and not having the time to do it
Improve mobility with less aches and pains
Get more protein and vegetables into your diet
All four books that make up Get Back In The Saddle total over

$80
But with the click of your finger (or mouse) it is all yours for the low price of

$15
——————————————————————————————————————–
Why The Low Price For Get Back In The Saddle?
If you want to make a change to transform your body and health, you need skin in the game. No question.
And most people don't like wasting money (particularly now) and spending money on a training program for it to sit on the shelf.
That is a waste.
There is no need for you to spend a small chunk of change for a program you might dislike simply for the sake of putting skin in the game.
So, by giving you everything you need to get started on your exercise journey for one low price makes the decision easier for you.
You'll love the 6 week Get Back in the Saddle program so much, we'll be talking about the advanced training programs and personal training session options to help you throw a turbo booster on your results!
Again, to get started, it'll only cost you as much as 3 large lattes (and a $2 tip).
I'm pretty sure that to get on the fast track to a better feeling and looking at you, you can drink a black drip coffee with milk for 4 days. After all, you're TOTALLY worth it!
My programs get results (I've been doing this a while) and if you like what you see with Get Back In The Saddle, you'll want to check out what else I've got up my sleeve. 😊
——————————————————————————————————————–
——————————————————————————————————————–
All of my women clients want to like what they see in the mirror. I get it. You cannot turn back the clock to your 20's but you still want to wear the occasional sleeveless top and your favorite pair of pants without having to go to extremes.
Get Back In The Saddle will help you achieve this and more. You'll feel more confident, stronger and have the energy to keep up with the younger people in your life.
All your friends will be asking you your secrets. But we'll never tell. 🙂
——————————————————————————————————————–
FAQ
There are a couple of things I didn't address above, and to make sure we're on the same page, here are the frequently asked questions.
What do I do if I'm not familiar with an exercise or unsure of my form?
Read the Get Back In The Saddle manual for instructions and watch the videos which are hyperlinked to the instructions. If you are still unsure email me at shanemcleantraining@gmail.com
How long does the program last?
6 weeks.
How many days a week will I exercise?
At least 3 days a week.
How long will each training session last?
30-40 minutes.
Does it matter when I exercise?
No. However, put it in your schedule and treat your exercise like an important appointment.
Do I have to pay for shipping?
Get Back In The Saddle is 100% digital. No packaging or "remote pickup" required!
What if Get Back In The Saddle doesn't work for me? Do you have a guarantee?
I'm so confident the Get Back In The Saddle Program will work for you, that if you complete the 6-week program and it does nothing for you you'll get a 100% no-hassle refund.
Will the Get Back In The Saddle work for men?
Yes.
Will the Get Back In The Saddle Program work for beginners?
Yes! In fact, you may even wonder why you put off starting your fitness program for so long, cuz this is fun, easy, and you'll see great results in as little as 2 weeks!
——————————————————————————————————————–
What kind of results can I expect?
How your body responds to exercise and nutrition is different from person to person.
Some people will drop the pounds by picking up a dumbbell while others struggle tooth and nail for results.
But I can promise that if you follow this plan for 6 weeks you will:
​Move better and have more energy

Your clothes will fit better, and you'll start to like what you see in the mirror

​See muscles you hadn't seen in a while (or ever)
​Develop an exercise habit and start to see all the benefits regular exercise provides
​Feel your self-confidence soar higher and higher each time you exercise
What equipment do I need access to? Can I work out at home?
You'll need access to dumbbells and resistance bands. If you don't have access to the gym you can purchase some with the links provided in Get Back In The Saddle.
If this is not possible, email me at shanemcleantraining@gmail.com and I will provide solutions to your problem.
And yes, you can work out at home.
Don't See Your Question?
Please email me.
Here's my email address: shanemcleantraining@gmail.com
Still Unsure?
Send me an email and we'll set up a 10 minute call to see if the program is a right fit for you.
NOTE: Get Back In The Saddle is an eBook. No physical products will be shipped. After your order, you will be taken to a page with the book ready for you to download. Once you purchase and use your email, I will email you the other 3 books ASAP.
Obligatory disclaimer: The FTC requires us to specify what "typical" results are. The truth: most people never do anything with the products they buy, so most of the time, their typical results are zero. The biggest factor is you.
Shane McLean is not a physician. The contents of this product or website should not be taken as medical advice. It is not intended to diagnose, treat, cure, or prevent any health problem – nor is it intended to replace the advice of a physician.
Always consult your physician or qualified health professional on any matters regarding your health. By participating in this workout program, you agree that Shane McLean shall not be liable or responsible for any injuries to you resulting from your participation in this workout program (whether at home, at a health club, or anywhere else).